uberAgent is the monitoring tool Citrix administrators have been waiting for. Whether you are using Citrix Virtual Apps and Desktops (CVAD, formerly XenApp/XenDesktop), SBC, VDI, or any other kind of virtual desktop, uberAgent gives you the information that matters.
Built upon the data analytics platform Splunk, uberAgent scales from small single-site deployments to distributed worldwide infrastructures of any size.
Did you know that uberAgent also monitors Citrix ADC? Head over to our documentation to get more information!
Small Footprint
A small footprint is of great importance in virtualized environments. Nobody wants reduced Citrix Virtual Apps and Desktops user counts. uberAgent is so small and efficient that you will hardly notice it is there – except when you look at the great data it collects.
Expect the following from uberAgent:
CPU: on average well below 0.5%
RAM: around 30 MB
IOPS: uberAgent does not generate any disk IO at all (except when writing to its log file and that is configurable)
Network: 15 MB/day (single-user machine), 65 MB/day (multi-user machine)
Troubleshooting and Optimizing Slow Logons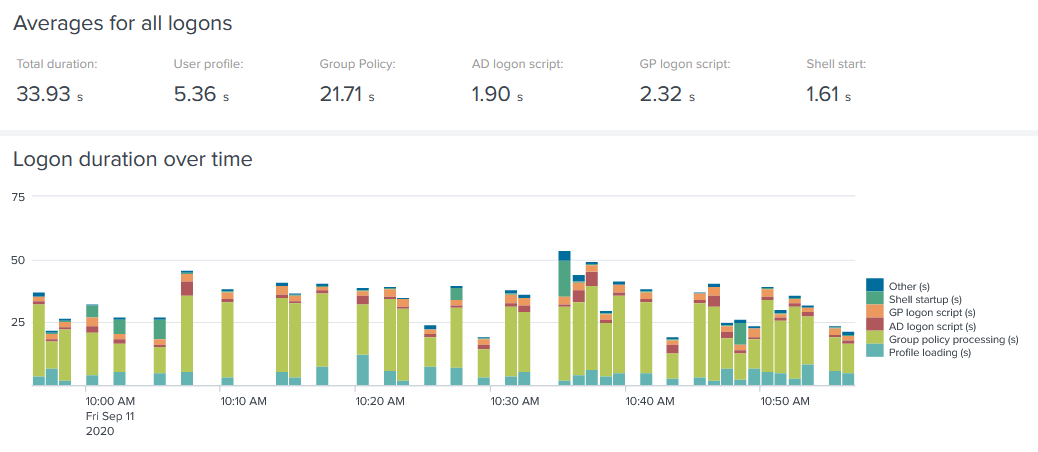 Logon duration is a typical area of concern for Citrix Virtual Apps and Desktops administrators. Whether your terminal server logons are slow or fast makes a great difference to the end-user experience. uberAgent helps diagnose, troubleshoot and optimize logons by telling you exactly how long each logon takes and where that time is spent, be it loading the user profile, processing Group Policy, or running logon scripts. It even goes so far as to show which Group Policy CSE runs how long. That way you can immediately see the impact policies like folder redirection have on logon performance.
Learn more about troubleshooting slow logons with uberAgent.
Citrix Site Monitoring
uberAgent detects if it is running on a delivery controller (DDC) or a VDA. On DDCs, it automatically enables additional metrics like machine registration status, license usage, and published application inventory. Of course, data retention is only limited by the size of your disks. Comparing last year's baseline with today's numbers suddenly becomes a no-brainer.
Learn more about Citrix site monitoring with uberAgent.
Capacity Planning and Sizing
How is your site utilized? Do you have spare resources? Are you limited by CPU – or rather by memory or disk IO? Or are your servers oversized, offering much more performance than is actually required?
uberAgent helps answer these questions with ease. It enables you to spot bottlenecks and plan for optimized resource utilization. Sizing Citrix Virtual Apps and Desktops sites becomes so easy that you wonder how you did it without uberAgent.
Learn more about sizing and capacity planning with uberAgent.
Application Performance
uberAgent gives you performance metrics not only per process, but also per application. Especially on Citrix Virtual Apps and Desktops it is so much easier to digest a single entry for Adobe Reader XI instead of dozens of individual AcroRd32.exe, AdobeARM.exe and reader_sl.exe processes.
Application startup times are critical for user experience. The faster applications launch the happier your end-users. uberAgent shows you where you stand by monitoring each process start and telling you exactly how long it took and how much disk IO was generated in the process.
Learn more about application performance monitoring with uberAgent.
Application Usage
On Citrix Virtual Apps and Desktops, you know which applications are installed. But you do not know which application is used when and by how many users. uberAgent answers that, helping with sizing, capacity planning and license monitoring. uberAgent also tracks which application versions are being run. This is great information to have on physical and virtual desktops where users can install their own applications.
Learn more about application usage metering with uberAgent.
Don't Bother With Citrix Director
Director is only available within Citrix environments. uberAgent works as well on PCs and laptops as it does for virtual machines. Monitoring all end-user devices with a single product gives you greater visibility to your company.
Of course, uberAgent can do much more than we could list on this page. GPU usage, browser performance per website, and many other things come to mind. Download and try it yourself!