uberAgent Surpasses 115,000 Installs on the Chrome Web Store
by Helge Klein
September 18, 2019
We are thrilled to announce that the uberAgent browser extension for Google Chrome surpassed the threshold of 115,000 active users. This is all the more exciting as the extension is an optional component of our monitoring and analytics product.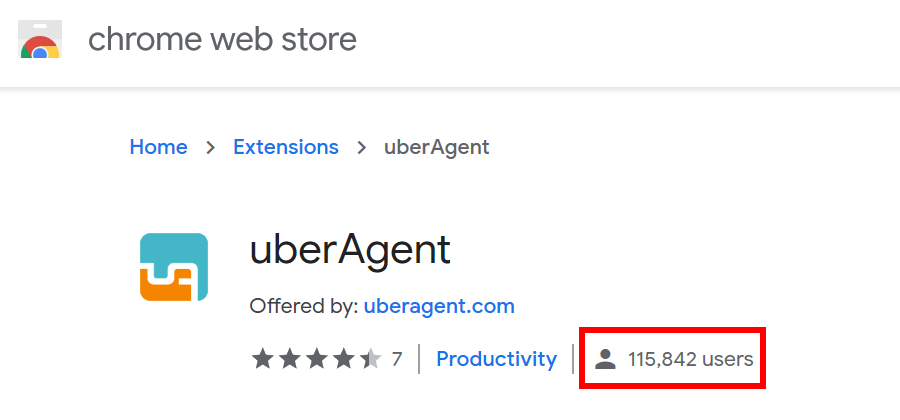 What is the uberAgent Chrome Extension?
uberAgent is all about the many aspects of applications. It records app crashes or hangs, determines application performance, performs inventories of all installed apps – and figures out where users spend how much time. In other words: uberAgent tells you which applications are used when, how often, and for how long.
These days, of course, browser-based web apps comprise an important part of any organization's application set. That poses a problem for monitoring tools. For the typical monitoring product, the browser is the application, not the many separate web apps running in parallel, each in its own tab.
We set out to change that. uberAgent was the first product to record web app usage – for any web app, without requiring changes to a web site's code. uberAgent monitors in-house line of business applications just as well as it works with YouTube, Facebook or any other public site.
If you are still uncertain as to why you should monitor web apps, read how the browser has become an OS for web apps.
How to Install the uberAgent Chrome Extension?
uberAgent is famous for its quick and simple installation. The only thing you need in addition to the endpoint agent is the browser extension, which can be found on the Chrome Web Store or deployed via Group Policy.
Once installed, the browser extension updates automatically. And there is no need to worry which to deploy first, the agent or the extension: once both are up and running they will talk to each other automatically.
About uberAgent
The uberAgent product family offers innovative digital employee experience monitoring and endpoint security analytics for Windows and macOS.
uberAgent UXM highlights include detailed information about boot and logon duration, application unresponsiveness detection, network reliability drill-downs, process startup duration, application usage metering, browser performance, web app metrics, and Citrix insights. All these varied aspects of system performance and reliability are smartly brought together in the Experience Score dashboard.
uberAgent ESA excels with a sophisticated Threat Detection Engine, endpoint security & compliance rating, the uAQL query language, detection of risky activity, DNS query monitoring, hash calculation, registry monitoring, and Authenticode signature verification. uberAgent ESA comes with Sysmon and Sigma rule converters, a graphical rule editor, and uses a simple yet powerful query language instead of XML.
About vast limits
vast limits GmbH is the company behind uberAgent, the innovative digital employee experience monitoring and endpoint security analytics product. vast limits' customer list includes organizations from industries like finance, healthcare, professional services, and education, ranging from medium-sized businesses to global enterprises. vast limits' network of qualified solution partners ensures best-in-class service and support anywhere in the world.