uberAgent Masterclass at E2EVC Berlin
by Helge Klein
June 4, 2019
As in the previous year, we will be hosting an uberAgent masterclass at the E2EVC community conference, which takes place in Berlin this week. E2EVC is the perfect place to learn from and network with your fellow end-user computing geek. The amount of brainpower that comes together for E2EVC several times a year is staggering. What better place for a deep-dive technical uberAgent training?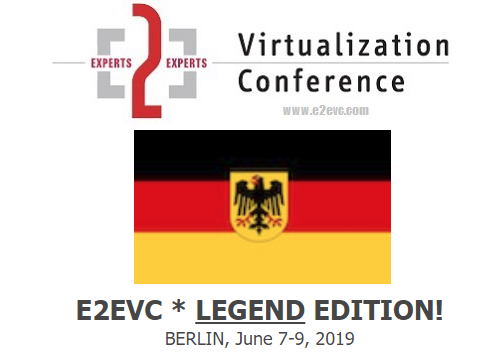 Masterclass Agenda
We have content for anybody with a solid background in end-user computing. If you are new to uberAgent you will get a thorough technical architecture overview. If you are already experienced in the product you should enjoy the deep-dives. Along the way, we want to hear about your monitoring requirements. And, as always, we are very open to feature requests.
The specific topics to be covered are subject to change depending on the attendees' interests. Following are some of the areas we hope to cover:
Architecture overview
Architecture deep-dive

How we collect user data
How we collect browser performance data
How we collect Citrix site data
How we collect Citrix ADC data
Multi-tenancy
Username encryption

Installation
Configuration
Splunk data volume optimization
Adding custom metrics

Performance counters
Custom scripts

Logging
Dashboards

uberAgent's Splunk data model
Custom dashboards
Custom lookups
Registration
Please register at the desk where you pick up your badge. The masterclass starts at 14:30 on Saturday.
See you soon!
About uberAgent
uberAgent is an innovative Windows and macOS user experience monitoring (UXM) and endpoint security analytics (ESA) product. UXM highlights include detailed information about boot and logon duration, application unresponsiveness detection, network reliability drill-downs, process startup duration, application usage metering, browser performance, web app metrics, and Citrix insights. ESA comes with a sophisticated activity monitoring engine, the uAQL query language, detection of risky activity, DNS query monitoring, hash calculation, registry monitoring, and Authenticode signature verification.
About vast limits
vast limits GmbH is the company behind uberAgent, the innovative user experience monitoring and endpoint security analytics product. vast limits' customer list includes organizations from industries like finance, healthcare, professional services, and education, ranging from medium-sized businesses to global enterprises. vast limits' network of qualified solution partners ensures best-in-class service and support anywhere in the world.