uberAgent Explored Article Series by EUC Expert James Rankin
by Helge Klein
June 23, 2020
Renowned Citrix end-user computing expert James Rankin has published a four-part article series about uberAgent. Start reading with part one.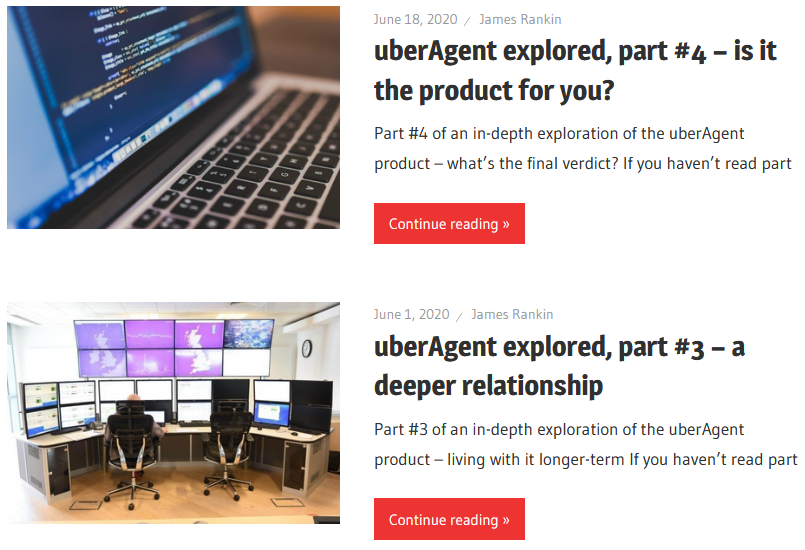 About the Article Series
uberAgent explored, part #1 – getting up and running
James Rankin starts the first part of the series by stressing the need for monitoring. He then introduces us to AdminX, the unknown sysadmin, who is looking for a monitoring product. James continues by approaching the exploration of the uberAgent product through the eyes of AdminX, a typical overworked IT person. The second part of the article thoroughly explains how to get uberAgent installed and ready for use.
Any project that provides a service to the user base should absolutely have a monitoring component.
uberAgent explored, part #2 – out-of-the-box experience
In part two of the series, James takes us through the first steps with the product, as seen through the eyes of AdminX (the overworked systems administrator introduced in part one). James starts by defining AdminX's burning issues. He then describes how to find answers with uberAgent and which dashboards to consult for data on logon times, session and browser performance, unregistered Citrix VDAs, and SMB latency.
The out-of-box experience has given us good information and a lot of detail around areas we are interested in.
uberAgent explored, part #3 – a deeper relationship
Part three of the series is all about the longer-term view. James' hypothetical overworked systems administrator AdminX has used uberAgent for a while and is developing a relationship with the product. What is the nature of that relationship? In James' words: I started getting really excited about the power and customization at your fingertips.. And: uberAgent is incredibly flexible, and the longer-term experience is mainly characterized by finding out more and more cool things you could potentially do.
The beauty of uberAgent is that it has the inherent flexibility provided by the Splunk architecture underneath.
uberAgent explored, part #4 – is it the product for you?
The final part of the series is about the decision stage: whether to move from PoC to purchase. James Rankin's protagonist builds a business case and performs an economic analysis of uberAgent. The article concludes with: I can honestly say that if you want flexibility and the power to create highly-tailored dashboards that give precise views of metrics aligning directly with your customer needs – uberAgent gives you that in spades.
uberAgent now certainly always is on my list of monitoring tools to suggest.
About James Rankin
James Rankin has a great talent for explaining complex technical topics. In his blog, he explores and explains tools and technologies related to Citrix, virtualization, application management, personalization, and more. James' articles often are very detailed and reveal issues and suggest solutions that otherwise might have gone unnoticed.
James actively participates in the IT community not only by blogging. He also speaks at conferences and participates in the UK Citrix User Group. For his many activities, James has been awarded as Citrix Technology Professional (CTP).
About uberAgent
The uberAgent product family offers innovative digital employee experience monitoring and endpoint security analytics for Windows and macOS.
uberAgent UXM highlights include detailed information about boot and logon duration, application unresponsiveness detection, network reliability drill-downs, process startup duration, application usage metering, browser performance, web app metrics, and Citrix insights. All these varied aspects of system performance and reliability are smartly brought together in the Experience Score dashboard.
uberAgent ESA excels with a sophisticated Threat Detection Engine, endpoint security & compliance rating, the uAQL query language, detection of risky activity, DNS query monitoring, hash calculation, registry monitoring, and Authenticode signature verification. uberAgent ESA comes with Sysmon and Sigma rule converters, a graphical rule editor, and uses a simple yet powerful query language instead of XML.
About vast limits
vast limits GmbH is the company behind uberAgent, the innovative digital employee experience monitoring and endpoint security analytics product. vast limits' customer list includes organizations from industries like finance, healthcare, professional services, and education, ranging from medium-sized businesses to global enterprises. vast limits' network of qualified solution partners ensures best-in-class service and support anywhere in the world.