uberAgent is Citrix Ready Certified for XenApp & XenDesktop
by Helge Klein
November 14, 2016
We are happy to announce that uberAgent is now Citrix Ready certified for all versions of Citrix Citrix Virtual Apps and Desktops (formerly XenApp and XenDesktop), including Citrix Cloud on Azure.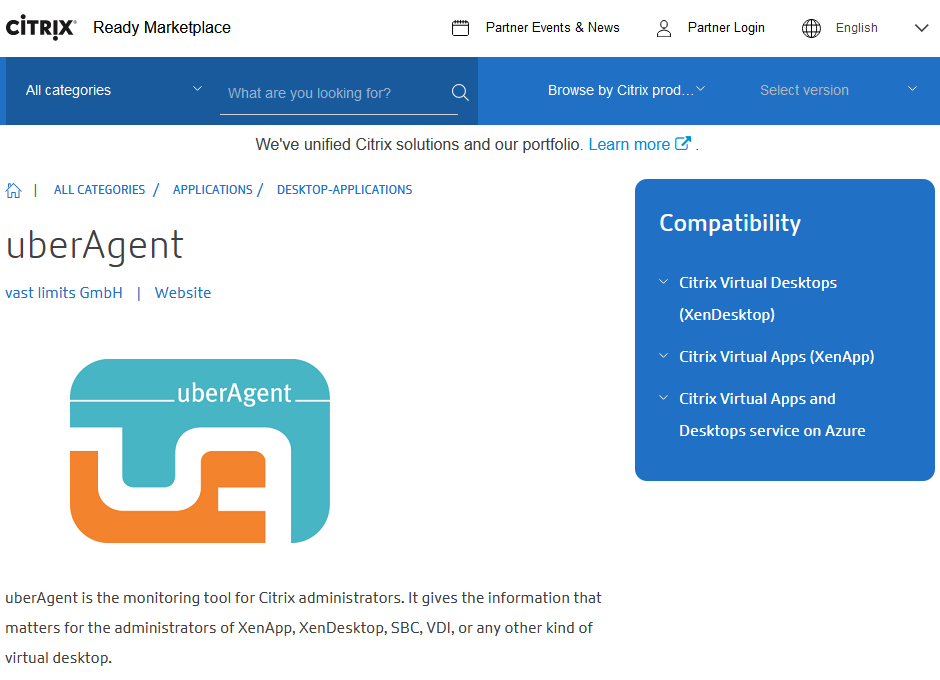 Please see the system requirements for details on the supported versions.
Benefits of the Certification
The broad range of Citrix XenApp and XenDesktop versions certified demonstrate our commitment to Citrix. We not only support uberAgent with virtualized applications and desktops, we actively optimize it for that use case. uberAgent's lightweight agent collects unique metrics without impacting user density. This makes it the perfect choice for gaining visibility into your Citrix deployment.
About uberAgent
uberAgent is a Windows user experience analytics and application performance monitoring product. Its highlights include detailed information about boot and logon duration (showing why and when boots/logons are slow), network latency per target and process, process startup duration, application usage metering, browser performance per website and remoting protocol insights.
About vast limits
vast limits develops enterprise-grade tools for administrators. These include uberAgent (user experience and application performance monitoring), Delprof2 (user profile deletion), SetACL and SetACL Studio (permissions management). Our tools have been downloaded more than half a million times and are used by enterprises worldwide.
Our founder, Helge Klein, is an experienced consultant and developer. As a consultant, he has worked in Windows and Citrix projects for large corporations. As a developer, he architected the user profile management product whose successor is now available as Citrix Profile Management. In 2009 Helge received the Citrix Technology Professional (CTP) award, in 2011 he was nominated a Microsoft Most Valuable Professional (MVP), in 2014 he was a Splunk Revolution Award Winner, in 2015 he became a VMware vExpert. Helge frequently presents at conferences and user group events like Citrix Synergy, Splunk .conf, BriForum or E2EVC.