uberAgent 7 Preview: Citrix Session Bandwidth & Policy Monitoring
by Helge Klein
August 11, 2022
While we're finalizing version 7.0 of our user experience monitoring & endpoint security analytics products uberAgent UXM and uberAgent ESA, let's take a look at another cool new feature: next-level Citrix session monitoring.
TL;DR
uberAgent has always provided exceptional insights into Citrix environments. Its logon monitoring capabilities alone make it one of the most exciting tools for Citrix admins. Add Citrix ADC monitoring, Citrix Site monitoring, and Citrix Cloud monitoring to the mix, and you know why Citrix Technology Professional James Rankin names uberAgent his tool of choice for measuring not just logons but every other aspect of the user's experience (source).
With uberAgent 7.0, we're making Citrix monitoring even better. The upcoming new version of uberAgent provides unprecedented visibility into what's happening on the session level: bandwidth usage, protocol latency, Citrix policies, video encoding settings, and much more.
What's New?
Let's take a look at what's new with Citrix session monitoring in uberAgent 7.0.
Citrix Session Configuration Details
The new session configuration dashboard lets you analyze almost any aspect of how users connect and what policies are being applied to their sessions. The dashboard pulls its data from live sessions, so it always reflects the current state. Historical values are available, too, of course.
Video Codec, Display Mode, Color Space
Many things need to be configured just right to achieve optimal visual quality in a remoting session. These include the video codec and color space, to pick just one set of essential session parameters. As you can see in the screenshot below, uberAgent shows you exactly which codecs and rendering algorithms are configured for your sessions: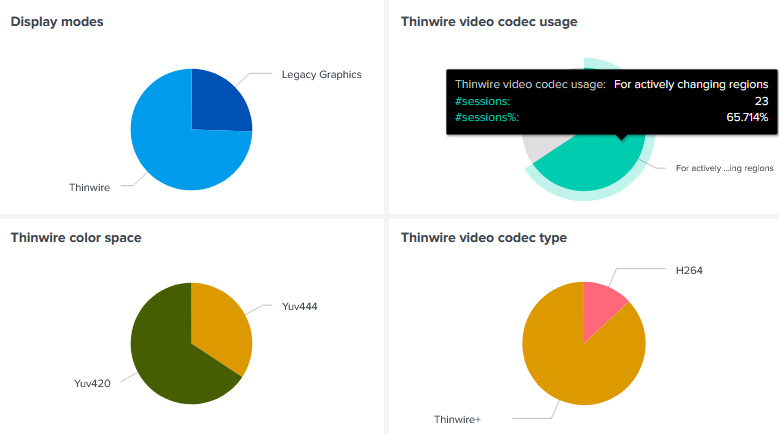 Frame Rate (FPS)
Another important metric that greatly influences rendering fidelity as experienced by end users is the frame rate, measured in frames per second. uberAgent continuously collects the frame rate for the entire duration of any session. This allows IT staff to proactively optimize the user experience without a single end-user having to call the help desk.

Citrix Policies and Settings
The Citrix session configuration dashboard offers drilldown capabilities that allow you to inspect the policies and settings of every session individually. The following screenshot shows a small excerpt of what's available: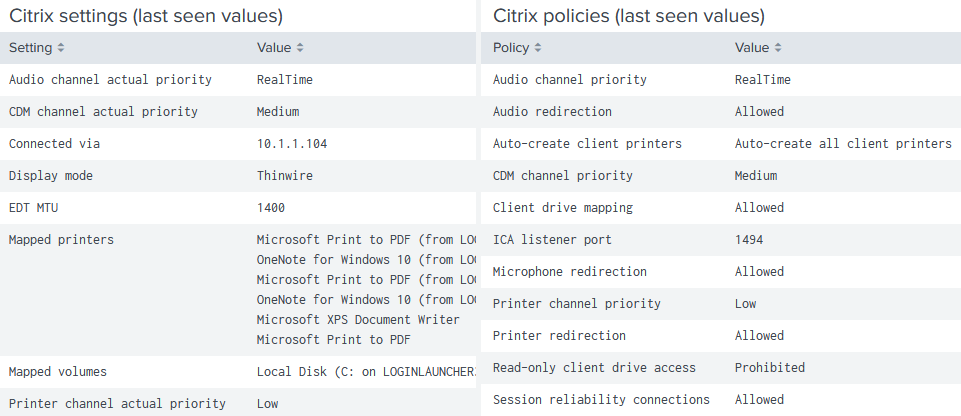 Citrix Session Protocol Insights
The session protocol insights dashboard is focused on ICA/HDX remoting protocol analytics.
Virtual Channel Bandwidth Usage
One of the dashboard's highlights: it visualizes session bandwidth usage per virtual channel. This is crucial information for any Citrix admin, as it explains which kind of data is transferred in the encrypted Citrix HDX protocol. In the screenshot below, for example, the user seems to have copied a lot of data to or from the clipboard (virtual channel: Clipboard), followed by what may have been scrolling in a long document (virtual channel: Thinwire Graphics).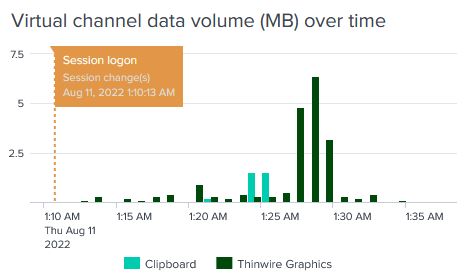 ICA RTT
Another cool metric helps to get to the bottom of many networking issues: ICA round-trip time (RTT). A high round-trip time may be experienced by end users as screen lag. The session protocol insights dashboard visualizes ICA RTT along with ICA latency, which offers a lower-level view of network connectivity (think: an ICA/HDX version of ping). uberAgent also determines the total incoming and outgoing HDX data volume, of course:

Under the Hood: Event Triggers for Timers
In order to make all of the above work, we needed a scheduler that could trigger data collection not only at fixed intervals but also when certain events occurred, e.g., when a user logs on. As it turned out, implementing such a flexible data collection scheduler is no trivial undertaking. While we were at it, we made sure to add the ability to filter/restrict data collection with our uAQL query language. This resulted in fantastic configuration flexibility. As an example, uberAgent 7.0 supports the following:
When a user logs on, run a script in the user session to collect data from the new session.
Collect user tags once when a user logs on and then periodically every 10 minutes.
Collect Citrix session configuration details when a session's connection state changes. Restrict data collection to Citrix sessions.
About uberAgent
The uberAgent product family offers innovative digital employee experience monitoring and endpoint security analytics for Windows and macOS.
uberAgent UXM highlights include detailed information about boot and logon duration, application unresponsiveness detection, network reliability drill-downs, process startup duration, application usage metering, browser performance, web app metrics, and Citrix insights. All these varied aspects of system performance and reliability are smartly brought together in the Experience Score dashboard.
uberAgent ESA excels with a sophisticated Threat Detection Engine, endpoint security & compliance rating, the uAQL query language, detection of risky activity, DNS query monitoring, hash calculation, registry monitoring, and Authenticode signature verification. uberAgent ESA comes with Sysmon and Sigma rule converters, a graphical rule editor, and uses a simple yet powerful query language instead of XML.
About vast limits
vast limits GmbH is the company behind uberAgent, the innovative digital employee experience monitoring and endpoint security analytics product. vast limits' customer list includes organizations from industries like finance, healthcare, professional services, and education, ranging from medium-sized businesses to global enterprises. vast limits' network of qualified solution partners ensures best-in-class service and support anywhere in the world.