uberAgent 7.1 Preview: Windows Boot Performance Monitoring Refresh
by Helge Klein
August 28, 2023
With the upcoming version 7.1, uberAgent's Windows boot performance monitoring is more complete, more reliable, more … awesome!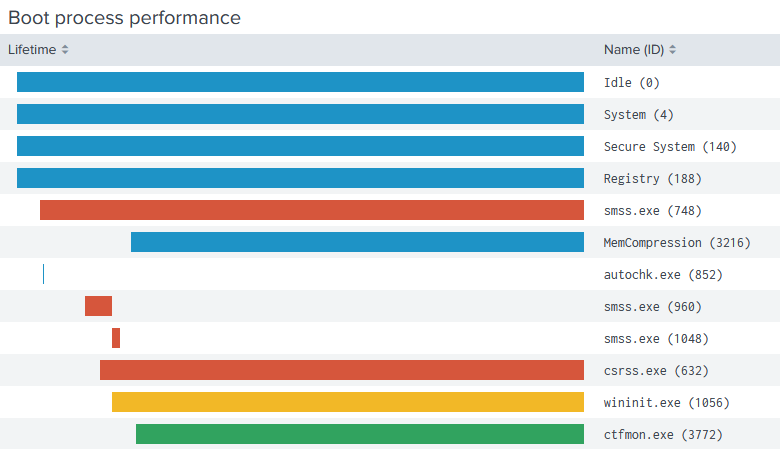 What is Windows Boot Performance Monitoring?
Boot performance monitoring is part of what Microsoft calls On/Off Transition Performance. This slightly unwieldy term describes the performance of changing between different power states. Power-on transitions include the system boot, resuming from standby (S3), or hibernation (S4), whereas power-off transitions include the OS shutdown, entering standby (S3) or hibernation (S4).
Why Are We Refreshing uberAgent's Boot Performance Monitoring?
uberAgent has had excellent boot performance monitoring since version 1.1, which was released as early as 2013! Since then, we've steadily improved on the feature but left the principal algorithm unchanged. When Microsoft modified its reference implementation in the Windows Assessment Toolkit, it became clear that we needed to raise our game – and so we did!
What's New with uberAgent's Windows Boot Performance Monitoring?
Metrics Alignment with Microsoft's Reference Implementation
uberAgent's boot performance monitoring algorithm is compatible with the reference implementation in the Windows Assessment Toolkit. Yes, this means that uberAgent's measurements can be compared with the numbers you got from the official Microsoft tools – which are, by the way, geared toward analyzing individual machines, whereas uberAgent's strength is the monitoring of your entire fleet of PCs.
Independent Solution
uberAgent's boot performance monitoring is an independent solution that doesn't rely on specific OS events that may or may not be written to the event log. As our – literally – decade-long experience has shown, different versions of Windows are not always consistent in the number and type of events they write to the event log. This creates gaps in your monitoring that can only be prevented by employing a product that comes with its own independent implementation.
Works with Virtual Desktops (RDP)
uberAgent's boot performance monitoring fully supports virtual desktops. In such environments, the initial logon is performed via a remoting protocol such as RDP, not on the machine's physical console. Other products that build on the Windows event log may fail in such scenarios because Windows doesn't reliably log the relevant on/off transition events in virtual desktop environments.
Works with Windows Server (as well as Client)
uberAgent's boot performance monitoring works not only on client versions of Windows but on server OSes, too. There is one significant difference: on Windows Server, uberAgent doesn't wait for a user to log on but stops the data collection once the logon screen is displayed.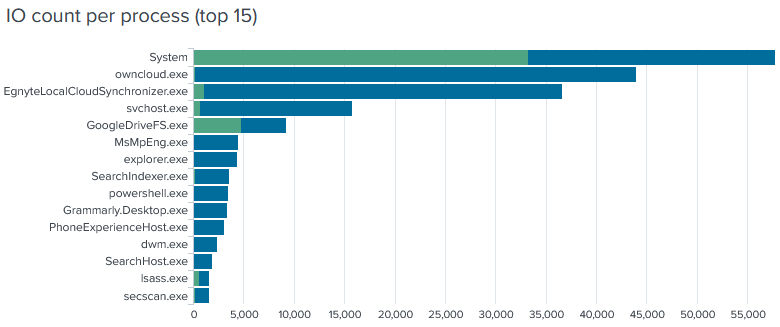 Windows Boot Performance Metrics Collected by uberAgent
For every machine boot, uberAgent collects two closely related sets of metrics.
Boot Detail
The boot detail metrics capture the duration of all boot phases, including, of course, the total boot duration, which is comprised of the main path and the post boot. The main path represents the "actual" boot time, whereas the post boot stands for the "cool-off" phase; it measures how long it takes until the machine's load has dropped enough for the PC to be actually usable.
The main path is split into various sub-phases, e.g., autostart services (service startup duration) or login screen (initialization of the login UI).
Boot Processes
uberAgent's boot processes metrics include detailed information about every single process that was active during the boot. These metrics help identify those processes that generate the highest system load (see screenshot above). They also allow uberAgent to display a process tree that neatly visualizes what's happening during the boot and who's involved (see the screenshot at the top for an example).
About uberAgent
The uberAgent product family offers innovative digital employee experience monitoring and endpoint security analytics for Windows and macOS.
uberAgent UXM highlights include detailed information about boot and logon duration, application unresponsiveness detection, network reliability drill-downs, process startup duration, application usage metering, browser performance, web app metrics, and Citrix insights. All these varied aspects of system performance and reliability are smartly brought together in the Experience Score dashboard.
uberAgent ESA excels with a sophisticated Threat Detection Engine, endpoint security & compliance rating, the uAQL query language, detection of risky activity, DNS query monitoring, hash calculation, registry monitoring, and Authenticode signature verification. uberAgent ESA comes with Sysmon and Sigma rule converters, a graphical rule editor, and uses a simple yet powerful query language instead of XML.
About vast limits
vast limits GmbH is the company behind uberAgent, the innovative digital employee experience monitoring and endpoint security analytics product. vast limits' customer list includes organizations from industries like finance, healthcare, professional services, and education, ranging from medium-sized businesses to global enterprises. vast limits' network of qualified solution partners ensures best-in-class service and support anywhere in the world.