Testing FSLogix Cloud Cache with uberAgent on Multi-User Windows 10
by Helge Klein
November 6, 2018
In this webinar, CTPs Helge Klein and Jim Moyle will take multi-user Windows 10 for a spin, the new OS version that supports multiple concurrent remote sessions Microsoft is basing its Windows Virtual Desktop offering on.
Windows Virtual Desktop, currently in preview, offers a multi-user Windows 10 experience from Azure. In addition to Windows 10, it supports Windows 7 and Windows Server 2012+. Microsoft 365 E3, E5, or F1 customers can access Windows Virtual Desktop for free.
In a world where apps and desktops are alternatingly hosted in the cloud and on-premises, user state management can be challenging. FSLogix Cloud Cache offers an elegant solution that provides flexibility and resiliency with truly location-independent user profile containers.
Hybrid clouds become complex quickly. To deal with that, IT needs the visibility that uberAgent brings to the table. With its user experience and application performance analytics capabilities, uberAgent is the monitoring solution for the modern workspace.
Register now to learn how Helge and Jim validated the benefits of profile containers on multi-user Windows 10 with uberAgent:
High availability
Fast logons
On-premises and Azure
Concurrent access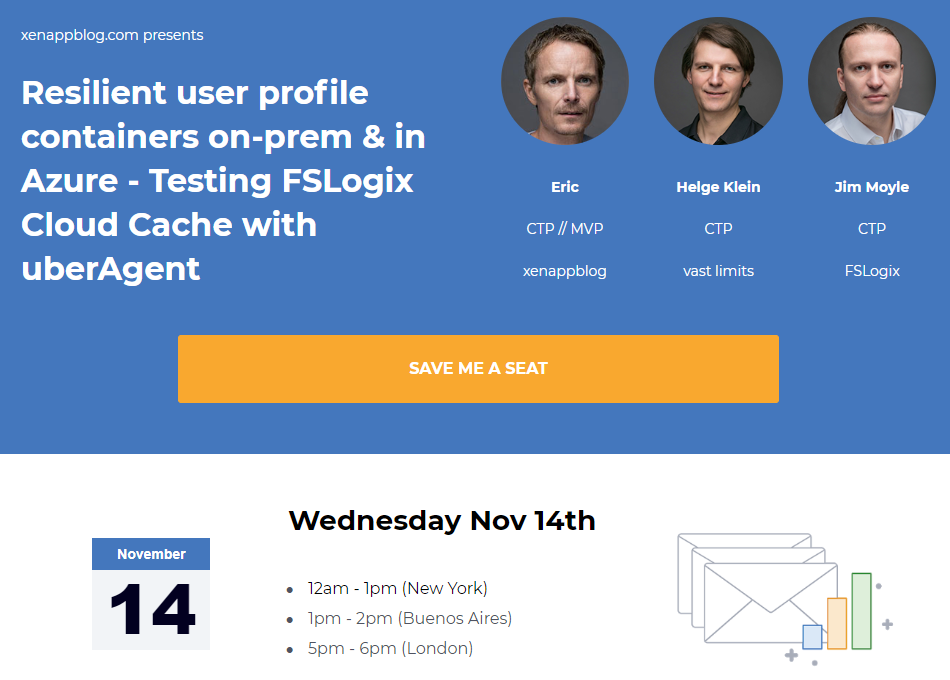 About uberAgent
The uberAgent product family offers innovative digital employee experience monitoring and endpoint security analytics for Windows and macOS.
uberAgent UXM highlights include detailed information about boot and logon duration, application unresponsiveness detection, network reliability drill-downs, process startup duration, application usage metering, browser performance, web app metrics, and Citrix insights. All these varied aspects of system performance and reliability are smartly brought together in the Experience Score dashboard.
uberAgent ESA excels with a sophisticated Threat Detection Engine, endpoint security & compliance rating, the uAQL query language, detection of risky activity, DNS query monitoring, hash calculation, registry monitoring, and Authenticode signature verification. uberAgent ESA comes with Sysmon and Sigma rule converters, a graphical rule editor, and uses a simple yet powerful query language instead of XML.
About vast limits
vast limits GmbH is the company behind uberAgent, the innovative digital employee experience monitoring and endpoint security analytics product. vast limits' customer list includes organizations from industries like finance, healthcare, professional services, and education, ranging from medium-sized businesses to global enterprises. vast limits' network of qualified solution partners ensures best-in-class service and support anywhere in the world.