Learn About uberAgent at Virtual Expo, a Free Online EUC Event
by Helge Klein
March 14, 2019
We are proud to be a part of the xenappblog.com Virtual Expo event, one of the best resources for learning about cloud-based end-user computing from renowned industry experts.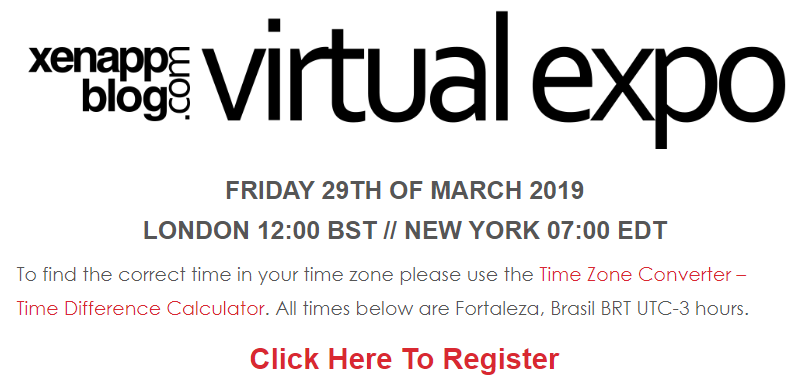 What is Virtual Expo?
Virtual Expo is a one-day event where world-class presenters share their real-world experience in cloud and virtualization projects. They explain what works, and what does not. They share scripts and tools that worked well, and, probably most importantly, the lessons they learned, so that others can benefit.
Best of all, everybody can join: Virtual Expo is a web-based virtual event, and it is free. Register now!
Sessions and Topics
The agenda lists many cool topics like the following:
What you need to know about Windows Virtual Desktop
Citrix Virtual Apps & Desktops recommended multi-site practices
Hosting your Citrix stack on Microsoft Azure
The Windows Virtual Desktop (WVD) Bullshit
10 issues uberAgent helps identify in minutes
Windows Virtual Desktop – what does it mean for Citrix?
20 application packaging hacks
The state of Citrix Cloud – April '19 edition
Citrix cloud migrations: successes and challenges
Have you ever wondered what those Citrix consultants know that you don't? What are their secrets?
DevOps for desktops
Register now and enjoy the show!
About uberAgent
uberAgent is an innovative Windows and macOS user experience monitoring (UXM) and endpoint security analytics (ESA) product.
uberAgent UXM highlights include detailed information about boot and logon duration, application unresponsiveness detection, network reliability drill-downs, process startup duration, application usage metering, browser performance, web app metrics, and Citrix insights. All these varied aspects of system performance and reliability are smartly brought together in the Experience Score dashboard.
uberAgent ESA excels with a sophisticated activity monitoring engine, the uAQL query language, detection of risky activity, DNS query monitoring, hash calculation, registry monitoring, and Authenticode signature verification. uberAgent ESA comes with Sysmon and Sigma rule converters, a graphical rule editor, and uses a simple yet powerful query language instead of XML.
About vast limits
vast limits GmbH is the company behind uberAgent, the innovative user experience monitoring and endpoint security analytics product. vast limits' customer list includes organizations from industries like finance, healthcare, professional services, and education, ranging from medium-sized businesses to global enterprises. vast limits' network of qualified solution partners ensures best-in-class service and support anywhere in the world.