Furthering Education, the Problem Solver #1
by Helge Klein
September 5, 2018
We believe in education. We believe that learning and knowledge make people more tolerant, more objective, and more understanding. In other words: we believe that education not only makes the world a better place but in the long term is the most effective way to achieve that goal.
This belief is reflected in our company motto, coined by Mark Twain: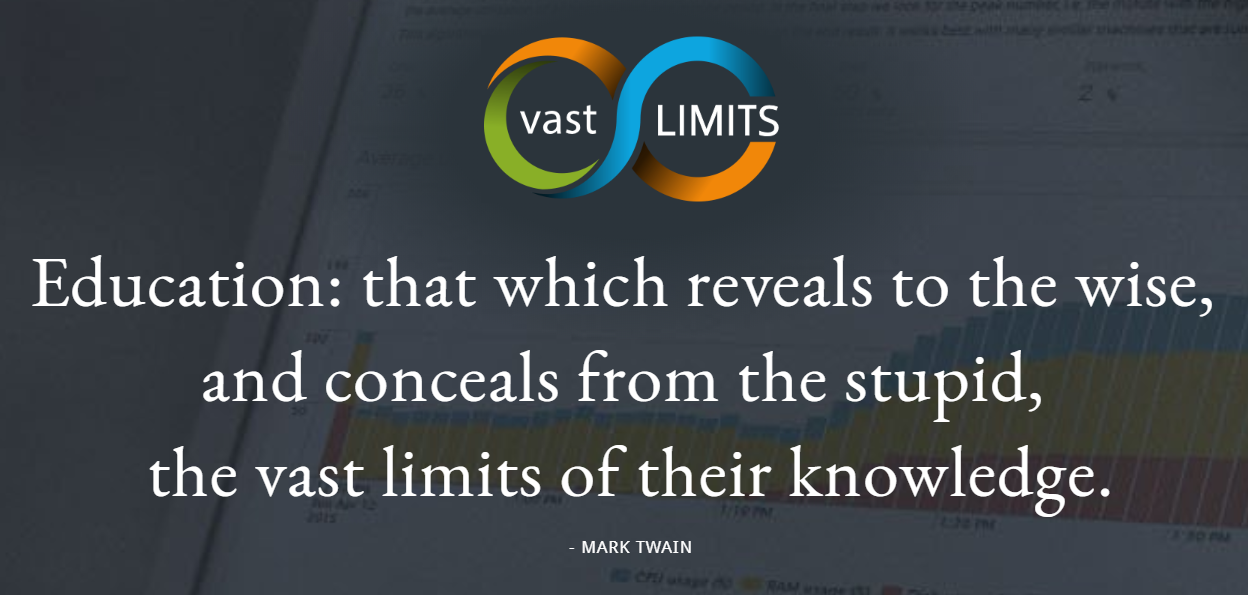 Why Education?
A good education stimulates a child's natural curiosity, the desire to learn and to discover the world. It enables us to reach our full potential, to challenge traditional viewpoints while at the same time better understanding them. In short: education makes us better humans – humans that strive to make the world a better place. Educated people have the means to do so. They have the necessary understanding of how the world works that is required to implement much-needed changes.
Education is the key to solving almost all of today's pressing problems, including, but not limited to: climate change, poverty, diseases, inequality, nationalism, fundamentalism, and so on. There is simply no way around education. It is the only solution that works long-term.
How vast limits Helps
vast limits is dedicated to making the world a better place – in many different ways. As a company, we are offering uberAgent, a product that helps organizations improve the user experience of their IT systems. As employees, we enjoy a work culture based on individual freedom and mutual respect. As human beings, we donate to charity organizations whose purpose is the furthering of education.
In 2018 we will be donating significant amounts to the following charities:
Bampangi Ya Mono
Bampangi ya mono ("my brothers") builds schools, wells, and community centers in the Democratic Republic of the Congo.
burundikids
burundikids aims to give kids in Burundi a chance at a worthwhile future.
Clave de Sol
Clave de Sol ("treble clef") supports children in the Brazilian favela Sao Marcos, near Ittapecarica da Serra.
VIA / Actuar por Bolívar
Actuar por Bolívar supports family-owned businesses in Colombia with micro-credits and know-how.
SOS Children's Villages
SOS Children's Villages works to protect and care for children who have lost parental care, or who stand at risk of losing it – worldwide.
About uberAgent
The uberAgent product family offers innovative digital employee experience monitoring and endpoint security analytics for Windows and macOS.
uberAgent UXM highlights include detailed information about boot and logon duration, application unresponsiveness detection, network reliability drill-downs, process startup duration, application usage metering, browser performance, web app metrics, and Citrix insights. All these varied aspects of system performance and reliability are smartly brought together in the Experience Score dashboard.
uberAgent ESA excels with a sophisticated Threat Detection Engine, endpoint security & compliance rating, the uAQL query language, detection of risky activity, DNS query monitoring, hash calculation, registry monitoring, and Authenticode signature verification. uberAgent ESA comes with Sysmon and Sigma rule converters, a graphical rule editor, and uses a simple yet powerful query language instead of XML.
About vast limits
vast limits GmbH is the company behind uberAgent, the innovative digital employee experience monitoring and endpoint security analytics product. vast limits' customer list includes organizations from industries like finance, healthcare, professional services, and education, ranging from medium-sized businesses to global enterprises. vast limits' network of qualified solution partners ensures best-in-class service and support anywhere in the world.