uberAgent 5.0: Browser UX Metrics, GPU Usage per Engine
by Dominik Britz
March 6, 2018
We are happy to announce the newest version of our user experience and application performance monitoring product. uberAgent 5.0 brings new features and improvements for any kind of device. So many, that we went from version 4.2 directly to 5.0.
For a full list of all improvements and bugfixes, please consult the changelog. As always, upgrading is highly recommended (instructions).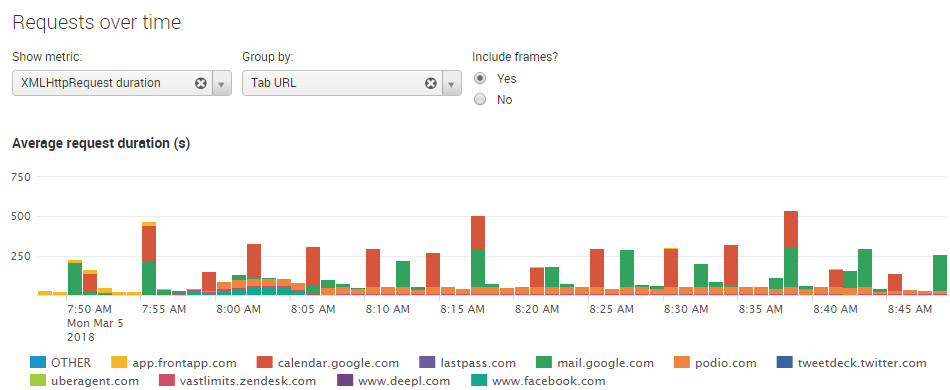 Browser UX Metrics
uberAgent is the perfect solution for monitoring user experience as well as performance for classic Windows applications. It shows you details for CPU and RAM usage, IOPS and process startup time – to name a few. But, more and more of these applications are replaced by modern SaaS and web apps; most of them delivered via the cloud. If the applications change, so must the capabilities of the tool.
Since the first versions, uberAgent has been able to show the load browsers generate on your machines per website or process type. With 5.0, we extended our product to collect detailed information for page loads and background data transfers. Exactly what you need to analyze the performance of SaaS and web apps.
At this point in time, we ship the new feature for Google Chrome – more to come. The functionality requires a browser extension to be installed.
GPU Usage per Engine
GPUs are everywhere. They are not only used in mobile phones or game consoles, but also in workstations and servers. They help to calculate computer graphics and image processing, thus relieving the CPU. In recent years, the development of GPU-enabled VDI environments, in particular, has made great progress.
A GPU consists of multiple processing engines. Each dedicated to a specific task, e.g. 3D processing, or video decoding. As of version 5.0, uberAgent is able to show the usage per engine over time. In combination with the already available metrics on GPU compute and memory usage, you will not only gain a deep insight into GPU performance but also learn what the GPU is used for. This feature is supported for Windows 10 1709 and onwards.
More Improvements
VMware Horizon
We always cared about virtual desktop infrastructures. It's important for administrators to know which client versions are used in their environment. Therefore, uberAgent now collects the version numbers of VMware Horizon clients.
Windows 10
On Windows 10 the OS build includes the UBR (update build revision), which represents a machine's exact patch state in a single number. uberAgent now collects this information and presents it in its Update Inventory dashboard.
CPU Usage
Ever heard of Turbo Boost and C states? Both are power-saving functionalities of modern CPUs. uberAgent now calculates the relative CPU frequency so that the effects of these CPU features can be analyzed.
Network configuration
uberAgent now collects information about all active network interfaces which enables you to analyze the usage of network adapters, interface types (e.g. VPN, WiFi) and (wireless) networks.
Elasticsearch
uberAgent now supports Elasticsearch 6.x.
About uberAgent
uberAgent is an innovative Windows and macOS user experience monitoring (UXM) and endpoint security analytics (ESA) product.
uberAgent UXM highlights include detailed information about boot and logon duration, application unresponsiveness detection, network reliability drill-downs, process startup duration, application usage metering, browser performance, web app metrics, and Citrix insights. All these varied aspects of system performance and reliability are smartly brought together in the Experience Score dashboard.
uberAgent ESA excels with a sophisticated activity monitoring engine, the uAQL query language, detection of risky activity, DNS query monitoring, hash calculation, registry monitoring, and Authenticode signature verification. uberAgent ESA comes with Sysmon and Sigma rule converters, a graphical rule editor, and uses a simple yet powerful query language instead of XML.
About vast limits
vast limits GmbH is the company behind uberAgent, the innovative user experience monitoring and endpoint security analytics product. vast limits' customer list includes organizations from industries like finance, healthcare, professional services, and education, ranging from medium-sized businesses to global enterprises. vast limits' network of qualified solution partners ensures best-in-class service and support anywhere in the world.